This festive wreath card was made with scraps for Day 5 of the #OCCHolidayCardWorkshop2022. I folded 2" squares of the patterned paper into the triangular shapes and then arranged them in a circle as a wreath. After a lot of trial and error, I ended up with this fancy looking small card..
Cardstock
Shaded Spruce (#146981)
Basic White (#159276)
Santa Express DSP (#159582)
Adhesive
Stampin' Seal (#152813)
Here is some detail on the wrong turns I took as I made this card. First I tried letting the wreath stand alone, as shown below. It looked too busy to me and, honestly, a little confusing.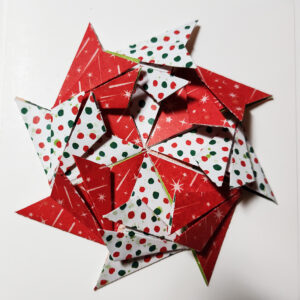 I decided that putting something in the center might help. The whole in the center of the wreath was missing, so I tried creating one with a circle of white paper that I nestled into the folds: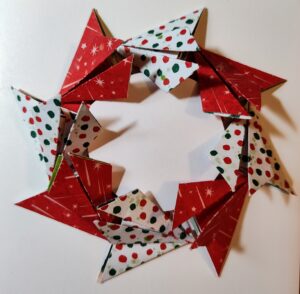 That looked too stark to me, and the white somehow seemed too white against the patterned paper. I thought that adding a sheet of DSP behind the wreath might help, so I tried that, but it just seemed busy. That led me to adding the patterned paper center to the wreath, which seemed perfect.
The wreath sat on top of a 5½ by 4¼ card base. Again, it looked stark. Something seemed missing. I looked through all my holiday stamps, but nothing seemed to fit the size and orientation of the wreath. After a day of sitting there unfinished, the card finally made sense when I realized that I didn't need a sentiments. I could just turn it into a small square card!