Here's my second try at the Stampin' Queens Sketch Challenge. Each Wednesday they post a sample sketch and some examples based on that sketch. Participants then use the sample sketch for their own cards. Here's the original sketch for this week, SQSC11: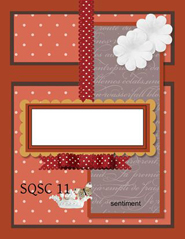 And here's my version, a Thanksgiving card using their design (click for a larger version).
I made the card with Stampin' Up's My Digital Studio. The paper is from the Blueberry Crisp Designer Paper Series. The ribbon is Not Quite Navy. The buttons are from the Ice Cream Parlor Embellishments. The sentiment is from Bright Blessings set.
Created with My Digital Studio by Stampin' Up. The artwork used to create the design is Copyright © 2009–2011 Stampin' Up!. All rights reserved.